---
U ovom blog postu ću vam opisati jedan vrlo koristan Google Tag Manager event pomoću kojeg možete u Google Analyticsu pratiti sve što korisnik kopira na vašoj web stranici. 
Možemo pretpostaviti na prvu da će to biti broj poslovnice, email podrške ili web shopa i sl., ali budite sigurni da se svakakvi zanimljivi rezultati mogu pronaći s tim eventom. 😉
 Da bi uopće mogli to napraviti na jednostavan način, potreban vam je Google Tag Manager. Stoga, ako ga nemate – kreirajte ga i postavite na web

.
1. Kreiramo Event Listener
Za početak kreirate Custom Listenera s kodom koji služi za dohvaćanje kopiranog teksta i onda ga "gura" u dataLayer. 
Kod možete preuzeti klikom na gumb "CODE 1" ili ga kopirati iz pastebina direktno na stranici.
---
---
 2. Implementacija u Google Tag Manager
Kreiramo "Custom HTML" Tag u Google Tag Manageru i kao trigger postavimo "All Pages".
Naziv Taga: Custom Listener – Copy Event – All Pages
---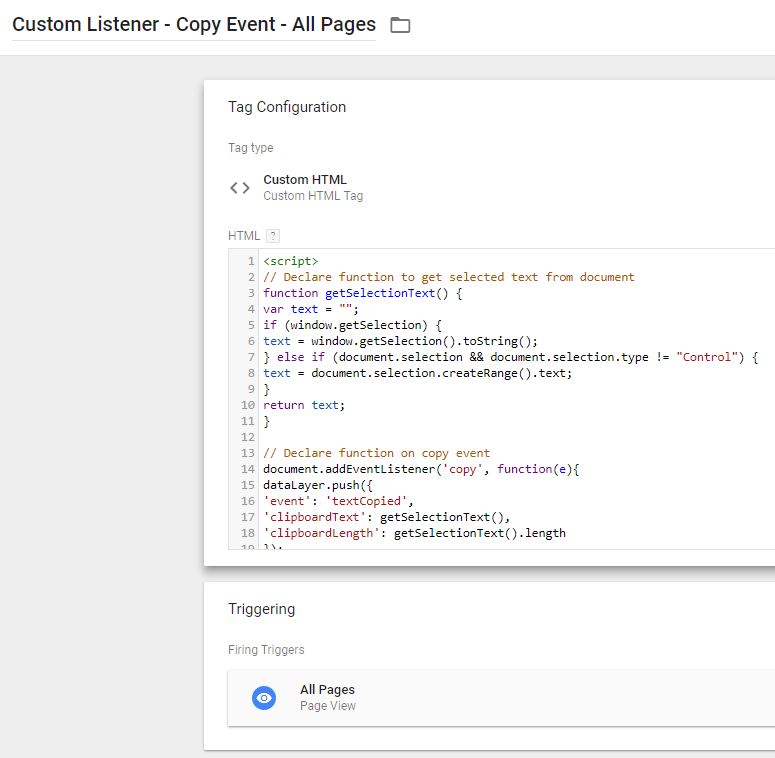 ---
Nakon što ste kreirali Tag i spremili sve, možete otići na preview, upaliti u novom tabu web stranicu i testirati. Za početak vam se treba pokazati Tag ispaljen na svakoj stranici bez da ste išta napravili i to izgleda kao na sljedećoj slici.
---

---
Nakon što vam se to pokaže, možete kopirati bilo koji tekst sa stranice i vidjet ćete s lijeve strane u summary da vam se otvorio textCopied.
---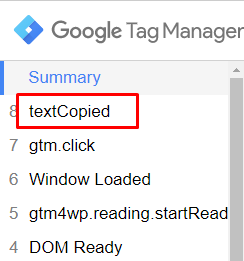 ---
Kliknete na textCopied te na Data Layer i možete vidjeti sve informacije o kopiranom tekstu. Prvi dio je gotov.
---

Slika 4. Data Layer – textCopied 
---
3. Data Layer Variable
 U sljedećem koraku moramo kreirati Data Layer varijablu. Kreiramo je tako da odemo pod Variables i na User-Defined Variables  kreiramo novu. Naziv varijable mora biti 

clipboardText

, a taj podatak možete izvući s prošle slike.
---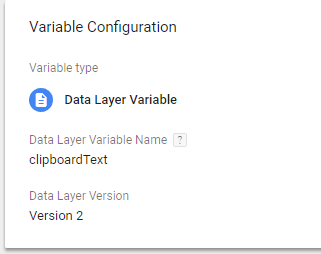 Slika 5. Nova Varijabla
---
Otiđete na preview mode i pogledate novi vrijednost pod Variables na textCopied >> clipboardText.
 Ta varijabla će se koristiti u sljedećem korake da šalje kopirani tekst u Google Analytics.
---

Slika 6. Pregled Varijabli
---
 

4. Posljednji korak u Google Tag Manageru
Za kraj je potrebno kreirati novi Tag (event) koji će bilježiti svako kopiranje u Google Analyticsu. 
---
Naziv Taga: GA – Copy Event
---
Odaberemo Event, kategoriju nazovete sami kako vam odgovara, kao Action stavite varijablu clipboardText koju smo kreirali, a kao label Page Path da možemo vidjeti gdje je to kopirano. Naravno, povežemo to s Google Analyticsom.
---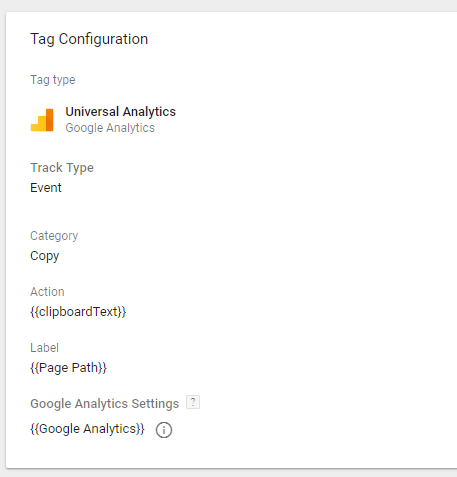 Slika 7. Kreiranje novog Taga
---
Još nam ostaje trigger kojeg moramo sami kreirati. Odaberemo Other – Custom Event i dodamo varijablu textCopied jer ona predstavlja event koji pamti tekst.
Naziv Triggera:  textCopied
---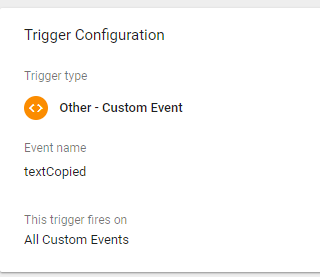 Slike 8. Kreiranje novog Triggera
---
To je to. Napravite preview je li vam Copy Event radi dobro, ako je sve u redu, napravite Publish. 🙂
---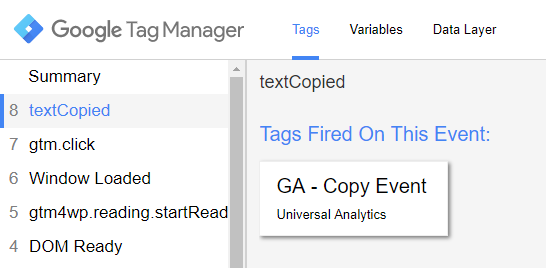 Slika 9. Preview i testiranje
---
5. Google Analytics
 Ostaje nam provjera u Analyticsu. Behavior >> Events >> Overview.
Secondary dimension: Event Action

Slika 10. Google Analytics
---
Nadam se da ćete iskoristiti "čari" i prednosti ovog načina praćenja custom Evenata. Lijep pozdrav! 😉